Browsing articles in "Culture"
Wishing you all a Happy New Year with a homage to Tomas Tranströmer and the Stockholm archipelago:
a poetic documentary film and photos 
In this  wonderful documentary film by Eva and James Wine, Tomas Tranströmer, Nobel prize for litterature 2011, reads (in Swedish) his long poem Östersjöar – Baltic Seas, with documentary material and pictures from Runmarö and the Stockholm archipelago. Tomas' family were pilots (lotsar) from Runmarö guiding boats sailing towards Stockholm harbour.
Update August 2017: The film could earlier be watched for free; now you may rent the film for $ 3.99 here.
The poem Baltic Seas  in English translation.
Links to translations into several languages
Background information to the film.
Tomas Tranströmer reading Baltics at the University of Arizona 1974 and 1975
Related facebook page
Below are pictures I shot in the year 2006 at a reading of Tomas Tranströmer's poetry on his Runmarö island in the Stockholm archipelago. It was a wonderful summer afternoon with cello musci, reading – and picknick in the green. Here also Tomas' wife Monica. Fine summer memories this grey winter December.
Below a picture from our festivities in the Runmarö local community center (Hembygdsgården) at the same time as the Nobel Prize banquet when Tomas was awarded the Nobel Prize for litterature in December 2011. On the big screen – television transmission from the Stockholm City Hall, with Tomas and Monica at the table.
That was a real winter back in 2011. And so was last winter in and around Stockholm. Here the Styrsvik jetty on Runmarö and skating in the afternoon sun on Källtorpsjön lake at Hellas outdoor sports center. This year however so far: grey. But it could be worse, and will probaby  become better!
My 2016. During the year that passed I made two visits to Sicily, Palermo and mainly Siracusa, a wonderful historic town with greek roots on the south-east coast. I got time to read and write, and swim. I worked on a policy oriented book in Swedish, with twenty-seven colleagues, on research policy in the field of work. Find the book, and abstracts in English here. For the moment I started working with colleagues on a basic university textbook in Swedish on work and management in  a changing "Swedish model".  This is a further development of my edited volume Nordic Lights.
After that I am planning a minor study on employment, immigration and  rightwing politics in a small town. Some of you may have heard about my long time project researching and aiming  to write a book about Gunnar Andersson, Säffle-Gunnar, le grand buteur, great star in OM, Olympique de Marseille in the 1950's. Here is a link to a facebook page about Gunnar   The photo here is the cover of the book for OM's 100 year celebration, with Gunnar on the front cover.

Min artikel i Värmlands Folkblad 14 januari 2016:

Erik Gandinis film "A Swedish theory of love" ger en svart bild av vad det svenska välfärdssamhället kan göra med oss.   Det brukar framhållas att välfärden ger autonomi och oberoende för alla, inte minst kvinnor, genom barn- och äldreomsorg. Vi behöver inte ha fullt individuellt ansvar för barn och gamla. Men en konsekvens, som Gandini drastiskt målar upp, kan bli isolering och ensamhet. 
Läs min artikel i Värmlands Folkblad .
* * *
Här nedan en längre version, som kom till tidningen först efter deadline.
Nästa steg: Politik och civilsamhälle för solidariskt oberoende
Erik Gandinis film "The  Swedish theory of love"  — inte "A Swedish theory…" — som jag skrev i mitt manus till VF) ger en svart bild av vad det svenska välfärdssamhället kan göra med oss. Vi lyfter gärna ram välfärdens positiva sidor: Den ger autonomi och oberoende för alla, inte minst kvinnor, genom barn- och äldreomsorg. Vi behöver inte ha fullt individuellt ansvar för barn och gamla. Förändringarna drevs i hög grad, med förnyad kraft på 1970-talet, av arbetarrörelsen och kvinnorörelsen och bidrog till kvinnors frigörelse, ett tema som det dock inte syns mycket av i Gandinis film.
En negativ sida av välfärden, som Gandini drastiskt målar upp, kan bli isolering och ensamhet. Vi tvingas inte hjälpa ochvårda varandra, inte umgås, vi får inte den friktion i relation till andra som är det som skapar oss som människor, som sociala varelser säger den 90-årige polske sociologen Zygmunt Bauman i filmen.  Resultatet kan bli en ofrivillig isolering.
Filmen visar gamla som hittas när de legat döda länge, anonym befruktning med nedfrysta spermier, SFI-elever som får lära sig att inte prata för mycket utan svara kort och koncist på frågor, "så som svenskar gör". Sådan mänsklig isolering i svensk vardag kontrasteras mot någon slags new age grupp som gosar med varandra i en solig skogsglänta, och mot en svensk läkare som flytt det kalla, sterila välfärdssamhället för Etiopien för att där möta värme och verkligen kunna göra nytta och vara behövd. Men jämförelserna och kontrasterna blir som framgår krystade, ovidkommande för frågan om ensamhet i Sverige.
Stundtals tänkte jag att psykiatern David Eberhardt – som gjorde sig ett medialt namn genom sitt kallhamrade bemötande av Anna Odell och hennes konstprojekt – kan få nytt vatten på kvarn. Men den kvarnen snurrar nog på i sin dogmatism under alla omständigheter; vi känner ju hans avsky mot svenskars "trygghetsnarkomani". Och han skulle nog inte uppfatta det ibland ironiska i filmen.
Filmen är dock angelägen, och oavsett att välfärdens dödgrävare bland nyliberaler kan hitta citat till stöd, så inspirerar den framför allt, genom sin dystopi, till eftertanke och ger känslomässiga avtryck – är vi kanske så här tysta, avskärmade? Ja, sådana tendenser och risker finns.
Filmen är i sin tur inspirerad av Henrik Berggrens och Lars Trägårdhs bok med en teori om statsindividualism, "Är svensken människa?" (Norstedts) I ett efterföljande samtal framstod som ett tema: Hur kan, utifrån den autonomi och oberoende som vi vant oss vid och vill ha, förutsättningar skapas för mer av gemenskap och socialt samspel? Det behövs en politik för det, vilket framhölls av Lawen Redar (i riksdagen, S) och Henrik Berggren, som menade att staten och civilsamhället behöver samverka här.
I vår bok "Nordic Lights" (SNS 2013) skrev vi om en "solidarisk individualism" och ser den svenska individualismen eller snarare oberoendet som framväxt i samspel inte bara med staten utan i föreningsliv och folkrörelser och därför med drag också av gemenskap. Men den bakgrunden räcker inte. För visst finns ändå idag tendenser till isolering och ensamhet.
Ett nytt politiskt projekt idag kan vara att undersöka en autonomi, ett oberoende, som inte utesluter utan snarare skapar förutsättningar för gemenskap, för det allmänna. För sociala relationer som inte är framtvingade av beroenden (vi måste inte dagligen vårda vår sjuka förälder), men där oberoendet inte får göra att vi tappar den sociala närheten (att vi ofta besöker äldreboendet till exempel, träffar våra vänner). Ett solidariskt oberoende.
En del i en politik för solidariskt oberoende är ett samhälls- och bostadsbyggande med demokratiska mötesplatser, med förutsättningar och lokaler för gemenskap. Det kan vara en större lokal i stadsdelen och mer decentraliserat i varje kvarter, ja i varje större flerbostadshus. Inte en grå möteslokal i ett mörkt hörn, utan en plats som inbjuder till spontant umgänge över hushållsgränserna, där de unga kan träffas, kanske för gemensamma måltider ibland. Andra kan vilja nyttja förutsättningarna för mer en mer organiserad samverkan.
Själv lever jag i en bogemenskap (den danska beteckningen som är ett mer träffande  ord än kollektiv), med ett tjugotal lägenheter som delar ett gemensamt utrymme med bra kök, matsal, TV/läsrum, barnens lekrum och gästrum. Hjärtat är gemensam matlagning och fyra middagar i veckan för dem som önskar. Annars har alla sin helt vanliga lägenhet med rejält kök. Vi turas om att laga mat (ett par matlagarpass var femte vecka för var och en). Genialt!
Allmännyttiga Familjebostäder skapade en gång förutsättningar för sådan gemenskap (politiken), och vi som ville bo så förverkligar denna (det civila samhället). En politik för resurser till det civila samhället. Kanske arbetstidsförkortning kan bli en del. Något i den vägen ser jag som nästa steg i utvecklingen av den "svenska modell" som skapat världens mest autonoma människor. Det är på en sådan grund som en närhet kan byggas som inte är påtvingad genom (ekonomiska och andra) beroenden, utan är fritt vald. Och det är angeläget att sådana möjligheter öppnas för alla. Då räcker inte en kvarterslokal för fester och sammanträden, det behövs något mindre, närmare. Detta må vara en utopi – men det har vi inte för mycket av i svensk politik idag. Inspirerar den oss att ta steg på vägen att förena autonomi och gemenskap är det gott nog.
Bogemenskaper kan även ge särskilda möjligheter till kontakter och möjligheter bjuda in nyanlända till  bekantskaper och mänskliga  med oss som är etablerade i landet.
Så även om Eric Gandinis film om svensk ensamhet är dystopisk och målar i bjärta kontraster, väcker den känslor och tankar som pekar framåt mot fortsatt utveckling av "världens bästa land".
Åke Sandberg
januari 2016
…  a lot goes on on the island this summer 2015, as you will see below and more if you follow this google+  link with photos from message boards on the island
​
A very special day for us all and for Emil: Studentexamen / Baccalaureat, Kungsholmens gymnasium.
More pictures here
.  Everybody  🙂
The Guardian
Joe Sacco: On Satire – a response to the Charlie Hebdo attacks
The acclaimed graphic artist and journalist Joe Sacco on the limits of satire – and what it means if Muslims don't find it funny
David Brooks, NYT:  I Am Not Charlie Hebdo
The massacre at Charlie Hebdo should be an occasion to end speech codes. And it should remind us to be legally tolerant toward offensive voices, even as we are socially discriminating.

Jordan Weissmann, Slate: Charlie Hebdo Is Heroic and Racist
We should embrace and condemn it.

Arthur Goldhammer, Aljazeera America: Let's not sacralize Charlie Hebdo
The magazine's raison d'être was to show nothing is sacred
Julian Vigo, HuffPost Canada: #JeNeSuisPasCharlie
Why I Can't Support the Original Hashtag
Jeremy Harding, LRB (2006): Short Cuts
Johannes Klenell, Aftonbladet: Att följa sin publicistiska linje är att hedra Charlie Hebdo
Inga extremister får påverka min utgivning
"Under de senaste dagarna har jag fått påtryckningar av många, men kanske framför allt från den anonyma extremhögern, att i yttrandefrihetens namn publicera den franska satirtidskriften Charlie Hebdos satirteckningar om islam. När jag först hörde om terrordådet kände jag en stark vilja att också publicera – visa upp, ge igen – men sedan började jag tänka. Jag kan bara inte göra det av ett antal skäl."
Charlie Brown i tårar, tecknad av Schulz.
Sorg. Oro. Kamplystnad. Tillsammans, alla,  försvara demokrati och frihet.
Här några bilder, länkar till Charlie-omslag och till tecknares skildringar av attacken.
Och för franksspråkiga, länk till Le Mondes bevakning.
Added Jan. 11
Sarah Palin: 'Why Do Muslims Hate Charlie Brown?'
Satire. On Sarah Palin mixing up Charlie Brown with Charlie Hebdo.
Charlie Hebdo annonserar nästa nummer, onsdag 13 januari, 1 miljon exemplar trycks
Le Mondes täckning av attacken: Aktuella fakta, analyser, rörande vittnesmål
12 Charlie Hebdo-omslag. Le Monde publicerar och kommenterar  – med satir över  politik och religion, kristen, judisk och muslimsk.
x
Tecknares syn på attacken, i Liberation här  och här
bl a Snobbenbilden ovan
I dessa dystra tider i land och politik är det lite svårt att säga God Jul. God Jul, men … Tankar går till de många som lever i fattigdom, de växande klyftorna i landet, flyktingmottagande som nu inte bara SD utan igår även KD vill spara in på – för att säkra välfärden som båda säger. Välfärd för några, och inte för andra.
Kent Wisti, den intressante prästen i Lund, satirtecknare och konstnär, har en annan turnering av God Jul, men…  Ett men som väl ofta har att göra med att 'det var bättre förr', före det moderna, före invandrarna, före PK …
Jag vill med en av hans bilder önska alla ett gott nytt år 2015.
Wisti har för övrigt inte sällan 'tankar för dagen' i P1, och han ska leda gudstjänster i jul och nyår i SVT. Värt att  lyssna på. Liksom förra årets julgudtjänster  från Katarina Kyrka på Södermalm  med Olle Carlsson som liksom Wisti förenar förnyade gudstjänstformer med samhällsengagemang för utstötta och fattiga
Wistis bild passar förstås bra med min föregående post om främlingsfientlighet och SD.
God helg
Åke
I förrgår, fredagen den 3 oktober avled Jean-Jacques Marcel, l'Olympique de Marseilles legendariske mittfältare, 83 år gammal,  efter en tids sjukdom. Jean-Jacques spelade i VM för Frankrike 1954, och i Sverige 1958 där Frankrike fick bronsmedaljen – höjdpunkten i karriären.
Jag mötte Jean-Jacques och hans underbara fru Michéle i St Maxime i juli förra sommaren, nära deras sommarbostad . Jag kom med tåget från Marseille. Vi hade ett långt och intressant samtal och en god lunch med 'fruits de mer'.  JJ berättade om fotbollen i l'OM och om sitt liv efter fotbollen, som representant för ett sportklädsföretag. Han lyckades fäl med la conversion, med övergången från en framgångsrik idrottskarriär till ett liv efteråt, och nu som pensionär med Michéle.
Jag var i Marseille på semester och för att samla material om Säffle-Gunnar Andersson, och det var det intresset som förde mig till St Maxime – och så visade det sig att paret var en mycket angenäm bekantskap. JJ hade mycket gott att berätta som Säffle-Gunnar, både som fotbollsspelare och målgörare, och som snäll människa och god kamrat. Han sörjde Gunnars öde, att efter all framgång gå ner sig i misär på Marseilles gator.
Jean-Jacques gjorde en stor insats i organiseringen av franska professionella fotbollsspelare. Med en annan spelare åkte han till England för att se hur de arbetade, och sedan hade han en viktig roll i formandet av fackföreningen för de professionella fotbollsspelarna, UNFP. Det handlade inte minst om att ge fotbollsspelarna stöd efter karriären. – Tänk om det facket funnits på Gunnar Anderssons tid, han hade behövt det.
Tänk om jag hade kunnat möta Gunnar och hans familj i Marseille eller Côte d'Azur på somrarna där. Nu ligger Gunnar begravd på Saint-Pierre-kyrkogården i Marseille, i fotbollsfamiljen Robins familjegrav. På måndag på Saint-Pierre kommer Jean-Jacques att kremeras, och senare samma dag blir det begravningsgudstjänst i födelsestaden Brignoles i Var. (Nära fina favoritbyn Cotignac.)
Jag har fått möta Gunnar genom samtal med hans barn, bror, andra släktingar, lagkamrater i OM samt forskare, journalister m fl i Marseille, Paris Säffle och Göteborg och kamrater och ledare i Åmål, Säffle och Göteborg.  Och i tidningsarkiv. I Marseille bodde jag hos forskarkollegor och  vänner, i Paris på Svenska institutet, SI Paris i de vackra Marais-kvarteren. Jag planerar att skriva något som tack för allt jag fått mig berättat.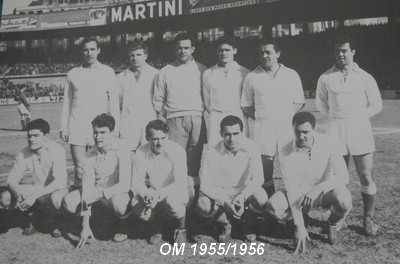 OM 1955/1956 Jean-Jacques Marcel i första raden,
andra spelaren från vänster, t.h. om honom ser vi
Säffle-Gunnar Andersson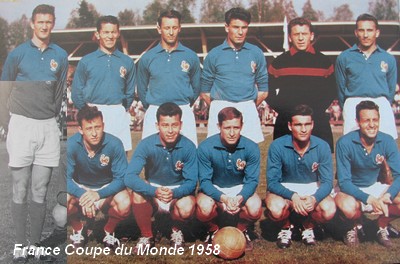 Jean-Jacques Marcel med franska VM-bronslaget
i Sverige 1958, trea från höger i andra raden
I spent a week in Istanbul  (mega 15-20 million, I did not know, believed there were some 2-3 million inhabitants) in September-October, a few days before sailing around Marmara, and a few days after. Istanbul is an old beauty in various stages of decay and reconstruction. The decay was especially evident on the Princes islands with beautiful wooden houses sometimes falling apart, seemingly from a horror movie. And besides new supermodern constructions. The atmosphere in Istanbul I found as told by Osman Pamuk: hüzün and that means things like melancholy, sadness, gloom, blues. East meets west, but less east than I had expected.
I stayed first in the Harem area on the Asian/Anatolian side of the Bosphorus, and then  on the European side, in Karaköy in the modern city north of the Golden Horn, close to the Galata bridge. The first four days I visited all the things you must see in the old city south of the Golden Horn, starting with the huge Topkapi palace The three days after sailing were mainly spent in the modern city around Karaköy and the Ishtikal Street with many small and big  fish restaurants, and also kebab places and good street food. Now a focus on food.
One morning i had a delicious breakfast plate with olives, cold meat, cheeses etc— at  Karaköy-Namlı Gurme, a lively place close to the fsh market. For lunch fresh fish (mackerel) in bread at Karaköy close to Galata Bridge and the Bosphorus lively boat traffic to Anatolia, the Asian side.
In the steep street from Karaköy up towards Ishtikal street and opposite Galata Tower youwill find a small  fish joint at with excellent food an good value,
Furreyya Galata Balikcisi
. I had their Balik  dürüm, a wrap with grilled fish and caramelized onions – mmm.  While Fürreyya is at the low price end, Sofyali 9 (also the address) nearby is a little less cheap with also delicious fish. In the old town, close to Sirked railway station (the final stop for the Orient express, from Paris – whose passangers, like Agatha Christie, often stayed in the Perla Palas Hotel), I had lunch at two exceptionally good kebab places, both on Hocapasa Sokak: Kasap Osman abdShezade Erzurum Cag Kebabi each with their specials.
–I found all those restaurants in "Istanbul Eats. Exploring the culinary backstreets", with low and medium price eateries. The book is handy but the authors, Ansel Mullins and Yigal Schleifer, also run a 
website
. The little book helped finding good food at low prices in spots tourists not always find.
–The last afternoon at sunset around 6 pm I followed a recommendation in the same booklet, and went to Akin Balik, a simple fish place behind the fish market west of the Galata bridge. Following the recommendations in the book I had thought of ordering a chowder-like thick fish soup and the a fish sandwich, and a sallad.  I turned out the personnel were not particularly attentive, especially not for single guest, and I was placed at the back of the restaurant and did not see much of the sunset over the Golden horn and the Bosphorus. They had no fish soup. The fish sandwiches were finished. I got a can of beer, and no glass till I asked for it. And the personnell were arguing all the time over where to place new clients. etc. I recommend th book, to find 'secret' restaurants, but also that you have a look yourself before ordering – things change also in Istanbul restaurants.
Being single in a restaurant is a good opportunity to read newspapers, before or after the meal. Geopolitcs in Turkey is course interesting, beling close to Syria, the middle east and Russia. Threats of war. And complex relations to EU and the yearly EU evaluation of progress just presented, criticizing most of all lacking human rights
Istanbul's two ambitious English editions of the major newspapers Today's Zaman and Hurriyet Daily News give two very different perspectives on politics, Zaman close to today's government (democratic reforms, conservative and with an islamist tendency, and now perhaps with steps back when it comes to human rights) and Hurriyet close to the traditional, secular Ataturk tendency dominating modern Turkey except the last decade, and with links to the military). It is very fascinating today to read two perspectives on the ongoing trials against earlier alleged military plans of coups, and parliamentary hearings about the role of the press in earlier military actions. In spite of severe limits to the freedom of the press in Turkey today, I find myself thinking that it would be fine if we had in Stockholm serious morning newspapers on to the right as well as to the left, and not as today three conservative ones all supporting the government (Dagens nyheter, Svenska dagbladet, Dagens industri). Sweden has been exceptional in the strength of its  labour movement, and at the same time the weakness of daily left and green media.  But it should of course be added that intellectual freedom is severly limited in Turkey, journalists and authors in jail. And the governing party now openly says it will try and put pressure on media to silence critical voices.
As I write this, Dec. 8,  in my office some 100 meters from the Aula Magna at the Frescati Campus, Nobel prize laureates are lecturing all day. I may go there in the afternoon to listen to the economists. All lectures are transmitted live on the net.
If you are not interested in this years economists, perhaps Paul Krugman's lecture is of interest?
Saturday the 10th Dec. is the Nobel day. Prizes will be awarded by the king – now under pressure becasue of supposed contacts with organized king and 'café cirls' – and in the evening there will be a gala dinner in the City Hall with a cultural programme in the Blue hall, and dancing in the Golden hall. Swedish public television will broadcast it all.
If you are not invited to the gala dinner the television is one option. Another one is to wait till March 27, that is the reception that Stockholm city will be giving the ilpc2012 in the Blue hall.
Or if you are on Runmarö, the island of the poet Tomas Tranströmer, this years prize for literature, there will be a local gathering for neighbours and friends  in the Runmarö Community Center and local museum, with dinner, dance and wide screen projection from the City Hall.
Below, again, a picture I like. I shot it at a poetry reading a summer day on Runmarö a few years. Tomas Tranströmer's stroke and afasi now prevents him now from reading, but he enjoyed the afternoon with his wife and neighbours.
I often quote a couple of lines from 'The truth barrier' (1978): 'Deep in the forest there's an unexpected clearing that can be reached only by someone who has lost his way'  I think that is part of research, related to serendipity.
While waiting for next summer, have a look at the lectures today, and the City Hall party this Saturday night.
/picture disappered 🙁  searching  /
Photo: Aftonbladet
Some five years ago the Center-right government as one of its first acts decided to close down the Arbetslivsinstitutet, the National Institute for Working Life, where both Fredrik Movitz and myself were then working. On the evening of the Nobel prize award ceremony researchers from the NIWL gathered outside the Concert Hall and protested. On the picture you may see among others professors Niklas Bruun (European labour law, now at the Helsinki school of economics) and Casten vont Otter (sociology of public sector organization). Today the 200 researchers are spread out, many have left the field of worklife research, others continue. But the strong milieu for critical research on work and organization has been destroyed, and that was the ambition. The banner in the middle reads: No Nobel prize to the Swedish government.
This text was first publshed earlier today on a site I run with two colleagues as part of our preparations for the 30th Labour process conference in Stockholm next March
Cloud of categories
Links
Log In